English Country Dancing is the dance form of Shakespeare, Jane Austen and Napoleon. It is done in groups, with dancers weaving intricate patterns around each other to music ranging from lively jigs and reels to dreamy and hypnotic melodies. Today there are ECD communities around the world, including Australia, Europe, Canada, and the US.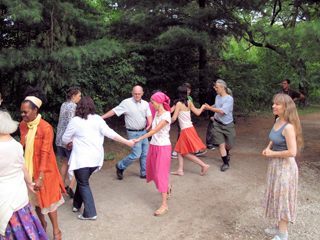 Image©Ruth Lor Malloy 2011, Blog.TorontoMulticulturalCalendar.com

A Weekend with Gene Murrow and Peter Barnes
Earl Gaddis
and Jacqueline Schwab
of
Bare Necessities November 14-16, 2014
Dancing in High ParkSunday, July 27, 2014
4-7pm Karen Millyard calling with Stephen Fuller on fiddle
The dance is ON - weather seems ambiguous, so we're looking forward to seeing you there!
---
Coming events:

Sunday, August 10 - next High Park dance postponed due to rain — UNESCO International Day of Dance — TECD will be taking our favourite dance form to the streets! – will be rescheduled For bulletins on our current and upcoming events (social dances, workshops and special events) please join us on Facebook and/or the mailing list.