English Country Dancing is the dance form of Shakespeare, Jane Austen and Napoleon. It is done in groups, with dancers weaving intricate patterns around each other to music ranging from lively jigs and reels to dreamy and hypnotic melodies. Today there are ECD communities around the world, including Australia, Europe, Canada, and the US.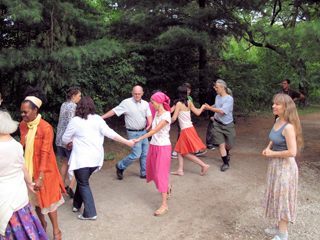 Image©Ruth Lor Malloy 2011, Blog.TorontoMulticulturalCalendar.com
Next event:

Saturday, December 21
Annual Solstice Dance

Christine Robb and Bridget Whitehead calling with Dorothy de Val and Stephen Fuller
8 to 10.30 at St. Barnabas, 361 Danforth Ave
10/7/family rates.
Please bring a snack, savoury or sweet, to share for our Solstice Party. Boughs of evergreens are also most welcome for helping to decorate the hall (many tree lots give away branches for free). We encourage you to bring your own cups to help protect the environment.
Dinner before dancing is at Diners Thai, 395 Danforth Ave., 6.15-7.45

Coming events:

Tuesday, December 31st New Year's Eve Dance! at St. Barnabas For bulletins on our current and upcoming events (social dances, workshops and special events) please join us on Facebook and/or the mailing list.