Bringing English Country Dancing to the community for over 20 years! Who are we? We are a volunteer-run, not-for-profit social dance group welcoming the community to share the joy of traditional live music and dancing. Dedicated to nurturing new talent, we hold traditional music sessions and musicians' workshops, callers' workshops, dance classes and special events as well as regular local dances. All welcome! No partner or dance experience is required. What do we do? English Country Dancing is the dance form of Shakespeare, Jane Austen and Napoleon. It is done in groups, with dancers weaving intricate patterns around each other to music ranging from lively jigs and reels to dreamy and hypnotic melodies. Today there are ECD communities around the world, including Australia, Europe, Canada, and the US.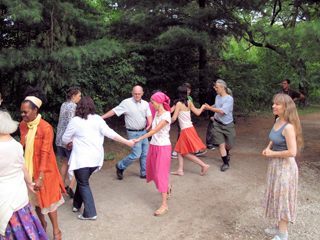 Image©Ruth Lor Malloy 2011, Blog.TorontoMulticulturalCalendar.com
Saturday, December 5, 2015 TECD's next first-Saturday social dance will be on Saturday, December 5 at St. Barnabas, on the Danforth. Karen Millyard calling with Dorothy de Val on piano and Stephen Fuller on violin. Join us first for a community potluck, bringing a dish to share! And if you have a friend coming to the dance for the first time, please encourage them to attend the mini-lesson at 7.45. 6 – set-up
6.30-7.30 – potluck supper
7.45 – mini-lesson in English Country Dancing
8-10.30 – Dancing to live music 10 / 7 students; if you attend the supper please bring a dish to share – savoury or sweet, fancy or simple, all will be enjoyed!
---
Please note that all TECD events are completely fragrance-free.For bulletins on our current and upcoming events (social dances, workshops and special events) please join us on Facebook and/or the
mailing list
.