Bringing English Country Dancing to the community since the 1990s! Who are we? We are a volunteer-run, not-for-profit social dance group welcoming the community to share the joy of traditional live music and dancing. Dedicated to nurturing new talent, we hold traditional music sessions and musicians' workshops, callers' workshops, dance classes and special events as well as regular local dances. All welcome! No partner or dance experience is required. What do we do? English Country Dancing is the dance form of Shakespeare, Jane Austen and Napoleon. It is done in groups, with dancers weaving intricate patterns around each other to music ranging from lively jigs and reels to dreamy and hypnotic melodies. Today there are ECD communities around the world, including Australia, Europe, Canada, and the US.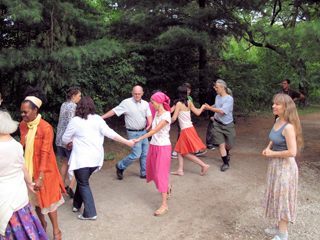 Image©Ruth Lor Malloy 2011, Blog.TorontoMulticulturalCalendar.com
Dancing in High Park
Picnic at 3, dancing from 4-7, and ice cream on Roncesvalles following the dance Schedule for August
August 2 - Tara Bolker and Ben Bolker
August 9 - no dance
August 16 - Karen Millyard and Stephen Fuller
August 23 - Tara Bolker and Stephen Fuller
August 30 - Karen Millyard and Stephen Fuller
For more information,
contact us
---
TECD will be at
Open Streets Toronto
on September 6, 2015, from 9 am to 1 pm, with Karen Millyard calling, Stephen Fuller playing, audience participation and demos. We'll be at the Bloor & Spadina activity hub. Come out and join us!
http://www.openstreetsto.org
---
For bulletins on our current and upcoming events (social dances, workshops and special events) please join us on Facebook and/or the
mailing list
.